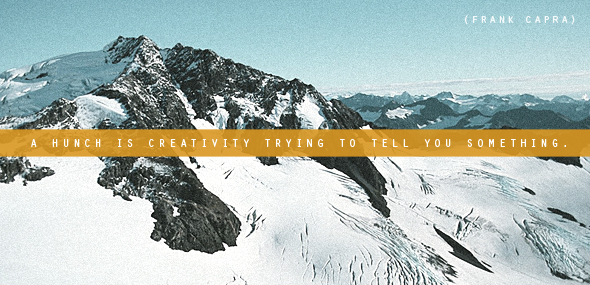 Your gut instinct may not be the solution, but it'll get you there.
Some great dudes once told me to if you had an idea, you must draw it or sketch it out. You must get it out of your head. Whether it's bad or good, you have to remove it from your head and transform it from a thought into an actual concept right in front of you, staring back. They knew what they were talking about.
To this day, when I encounter people I share that with them. The quote is very meaningful to me, as I've started to learn to go with my gut. For the longest time I subscribed to the theory of High Fidelity, which was my gut has shit for brains. However, recently I've noticed I should at least take the path of my first instinct. Explore it and see where it goes.
Don't ignore a hunch, a thought or a tiny bit of inspiration that appears in your head. If you do, you'll do a lot less than you could and should do. If through my small design life I ignored hunches and things like them, I wouldn't be where I was.
Initial small ideas grow. Initial large ideas just burst apart.
+
Artist Trent Reznor & Atticus Ross
Album The Social Network