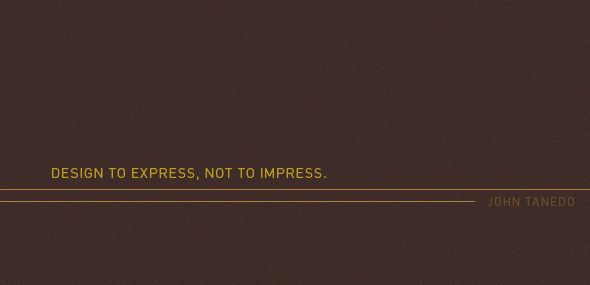 It feels like we've been here before. Function and form. Clarity and vagueness. This and that.
This time it's John Tanedo. What has he done this time? He's put forth, in simple terms, a mantra that all who design should follow. Add it to the vast list of mantras that place communication above lone aesthetics. It's something we should all repeat in the morning as we're preparing for the day. Instead of merely setting out to put forth more beauty into the world via visuals, we should remind ourselves that unless our carefully designed life includes carefully crafted and intentional communication, we're doomed.
Those of us who cherish what design should and can be should stay hungry and remember that it usually is not those two things. Keep sending messages, solving problems, asking questions and pushing the limits of what can be helped through the proper and well executed use of design.
Two more quotes to go.