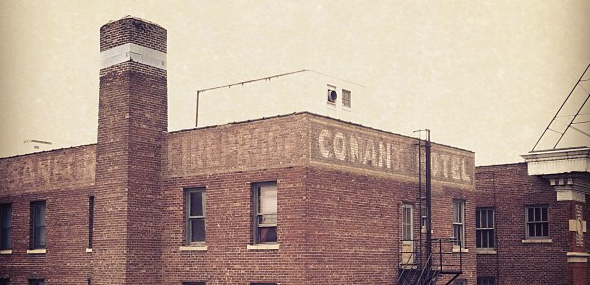 That is another instagram shot of Omaha and this a questionnaire my friend Adam Casey had to fill out so he sent it to me and asked if I would do it as well. So, I did.
What sparked your passion for design?
The singular and very specific event was when I attended an exhibition put on by AIGA Nebraska which was a traveling collection of gig posters. My actual reason for going to the event was to see three Omaha singer/songwriters perform which were Simon Joyner, Ted Stevens and Jake Bellows. However, once in the space, I became completely enthralled with what was on the walls. It was at that moment that I knew I wanted to immerse myself into graphic design as a whole.
How creative were you as a youngster?
I was creative in the sense that I was imaginative. A cardboard box was literally enough to keep me occupied for an entire day. I know this as my parents told me it's often what happened. Also, LEGOs were huge in my childhood as I was more interested in building toys out of them than using other toys. I'd make cars out of LEGOs instead of playing with toy cars. I've always felt that attitude has always been with me. I'm excited by things with multiple uses and creating things. The act and process of creating is my favorite aspect of design.
Do you come from a creative family? Were they supportive of your desire to be a designer?
My family is definitely not very creative, but they've always been immensely supportive and very interested in what it is I actually do.
What sort of education and training have you had?
My formal education consists of an Associates of Applied Science in Graphic Design from Iowa Western Community College and a few credit hours at Bellevue University before I left school.
Who did you want to work for when you first entered the industry?
Locally, Oxide Design Co. Nationally, Pentagram, Massimo Vignelli and Sagmeister Inc. Internationally, Neville Brody, Erik Spiekermann and Wim Crouwel.
Tell us about your first project and what do you feel about it now?
Honestly, I do not remember what my first project was in school or out of school. Several all blur together into one massive non-vivid memory.
What is your preferred software to work with and what has been the greatest advancement in
technology over the past 5 years?
In general, Adobe software. Specifically, Adobe InDesign as it's my favorite program. The greatest advancement in technology over the past five years was and continues to be the internet. It's growth, in terms of usage, availability and size are simply mind blowing.
Is digital technology going to eliminate the need for print?
No, but it has changed it forever. We now must always ask ourselves if something works better just as digital or print. Magazines and newspapers are dying, but there is still no substitute for walking by a poster on a street or being handed a piece on the sidewalk or as you enter a space. When we have something in our hand, we feel it, we turn it and we examine it. It's easier to not open an email or click on a link than it is to throw a piece of paper away. Even if someone hands you something that you have no interest in, you may keep looking at it or leave it somewhere for someone else to pick up. Nobody else will see the email you didn't open because it looks interesting to them.
Whose work do you really admire and why?
The list is quite massive and instead of singling out an individual, group or collective, I'll just say I admire work that is smart, precise and deep. A new spin on the obvious is still the obvious and making me think is always welcome. I admire work that has many conceptual layers. Everything you need to see is right in front of you but there is far more that you can see behind that.
Who has been the greatest person that you've ever had the pleasure of working with and what have they taught you?
I have not worked with many, but to me the greatest I have worked with was my good friend Adam Casey. He does not know it, but I deeply envy him. Adam's passion is only matched by his tenacity for what he feels is right. Adam doesn't stand up for something because he wants to end up on top, he stands up for something because he truly feels it's the best possible solution. I was lucky enough to have Adam around me in my beginnings of design and without his friendship and advice, I most likely would not be as well off as I am now. Other than Adam, my basic design professor Stuart Bay at Iowa Western taught me about the world of space and what it means for something to work and my program chair, Carolyn Storm showed me that typography is as beautiful as anything else in design.
What has been your greatest achievement so far?
Just the fact that I'm still in design and haven't failed yet to me is my greatest achievement. I get to do what I love.
How would you describe your work?
Minimal, tuned and effective.
What are your plans for the future?
Teaching at this point is the only actual goal that I have for myself. Other than that, I'll be in and around design.
What sort of company would you like to work with next?
One that is organized and understands and appreciates the value of design. Also, one that views designers as thinkers, problem solvers and craftsmen rather than just a tool to manipulate.
What is your creative outlet outside of design?
I don't really do anything creative outside of design. I use what I know and love about design in other parts of my life, but for the most part all of my creativity is channeled into design. The small aspects that are not are put into cooking here and there and I'd love to do very short films. Also, I do write every now and then. Fiction based on reality from my past. So, I guess I do have some creative outlets outside of design.
What are your top 5 websites at the moment?
ISO 50, Designspiration, ffffound, The Guardian – Football and 8 Tracks.
What CD are you currently listening to and is it any good?
Washed Out Within and Without – It's beautiful.
If I was a font, I'd be…?
FF Din – Light.
+
Artist Washed Out
Album Within and Without