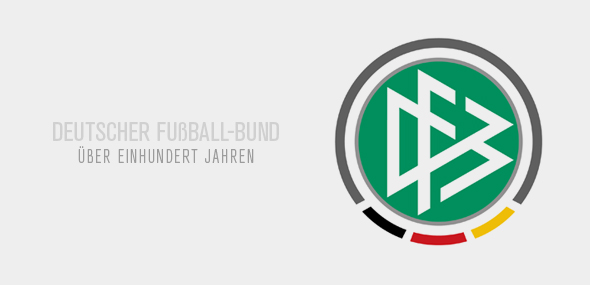 Easily one of my favorite things, ever.
The Deutscher Fußball-Bund, or German Football Association, is the governing body of football throughout Germany. It's often shortened to the initials DFB, which can be seen in the above logo. To me, it's absolutely genius and a typographic marvel.
I've long been drawn to German related design and have another love/fascination with the country and that is through Football. I closely follow the German side Borussia Dortmund who play in the top flight football league in Germany known as the Bundesliga. Last season, my beloved Borussia Dortmund won the league title, their first since the 2001/02 season. This year, we have a chance to repeat and if you'd like to talk more about it, let me know.
The DFB logo is the epitome of something I've seen and wished I designed. In the image above, all I did was place the text. Under the DFB name, it reads "Over One-Hundred Years". Of course, I had to use an online translator to do that, but I've wanted to learn German for years and have decided to start again. I download Bundesliga matches each week and watch them, along with the highlight shows. Often they're in German, which I'm hoping can help me learn the language. To immerse myself in it.
Why am I writing all of this? I'm not really sure. The DFB logo is brilliant, so I needed to share that. Also, my mind wanders.